From: An Aesthete's Lament

25 March 2010
Profile: Sam Chamberlain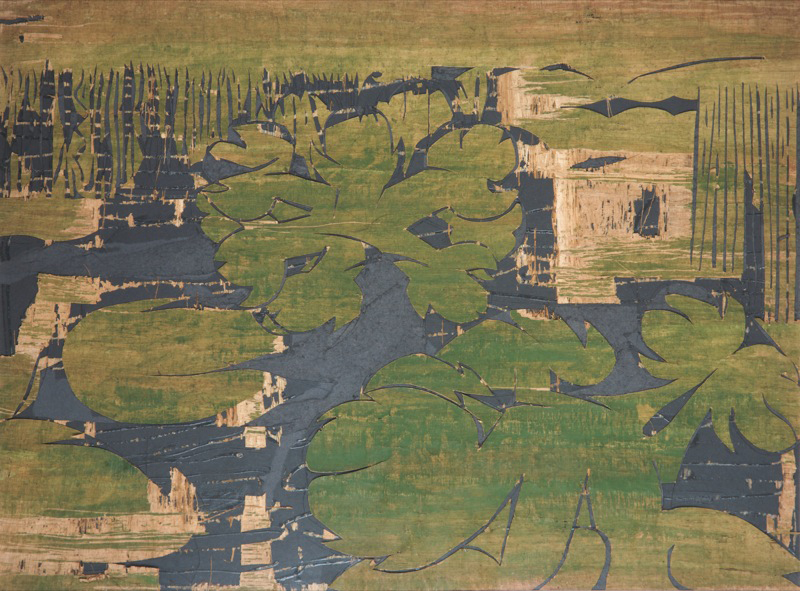 "Pond," an acrylic-and-paper collage by artist Sam Chamberlain.
If you're looking for intriguing art, don't always think you'll find it hanging on the walls of a grand gallery in a high-rent district. Very often it is displayed at venues that are off the beaten track-hard to find, inconveniently located, often obscure. Just such a spot is The Subway Gallery, a 1960s glass-walled kiosk tucked into a pedestrian subway underpass in Edgware Road in London, England. But some members of the city's smart set turned up there over the winter to attend the first one-man show of the works of Sam Chamberlain, a 41-year-old American-expat artist. "About 60 people showed up, even though it's a cold place to have a show in winter," Chamberlain told me in a telephone interview from his home in England's capital. "Everyone from a middle-aged raver to hippies to a woman who works for The Saatchi Gallery came. A friend of mine made some lovely canapés. People stayed for hours."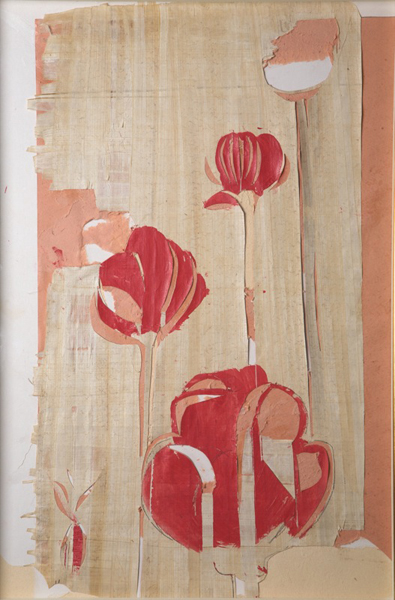 "Poppy Race (for a Dutch Tulip)", an acrylic-and-papyrus-paper collage.
It's easy to see why Chamberlain's admirers stuck around as the temperature dropped and why owners of his work-the one-man-show featured several acrylic-on-papyrus examples-include a pop star as well as groovy young members of the British aristocracy. Chamberlain's vibrant oeuvre is just my cup of tea: gutsy creations whose graphic good looks are expressionistic evocations of the natural world but with an appealing roughness. His preferred medium is collage (when working in the front room of his small apartment, he often weighs down the works with computer manuals until they dry) but instead of being perfectly pasted down in the manner of Matisse's famous cutouts, his works have a textural earthiness. Edges curl up to add dimension; layers of cut paper and fabric are stacked and staggered to suggest surprising amounts of depth; smudges are celebrated, with colors bleeding here, soaking there. Chamberlain's portrait of the surface of a shady pond combines sludgy shades of green and grey-blue with serrated irregular shapes that resemble lily pads or floating patches of algae. Poppies are rendered as splashy red petals set atop stem-like slashes revealing rugged fields of fleshy pink paint underneath; the tallest blossom, however, is a hole, a void, a ghost of a flower. Its absence, however, makes it more compelling than its scarlet brethren.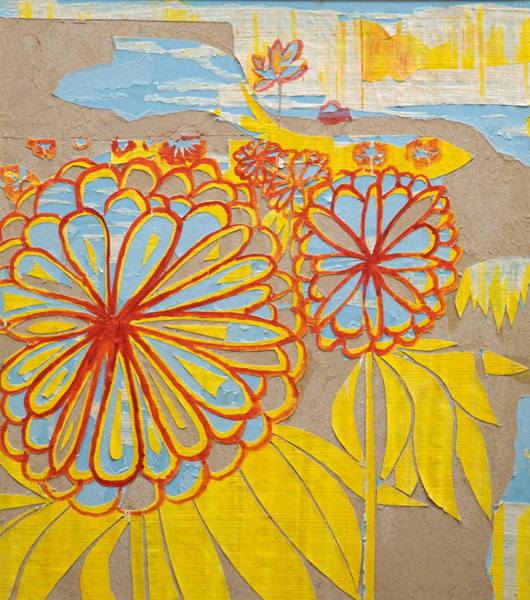 "Daisies", a 1994 acrylic-and-paper collage.
"Some things I cut precisely, and others I just rip and see what happens," says the Middlebury College graduate, who worked for artist Francesco Clemente in the 1990s before turning to a career in information technology, most recently as a systems analyst for the international development charity Christian Aid. "I think that's one of the main things about my work. I start with one idea and something else happens. It's a combination of planning and not planning, of drawing and then painting over what I've drawn. I tend to like when the end result is mysterious and sort of poetic."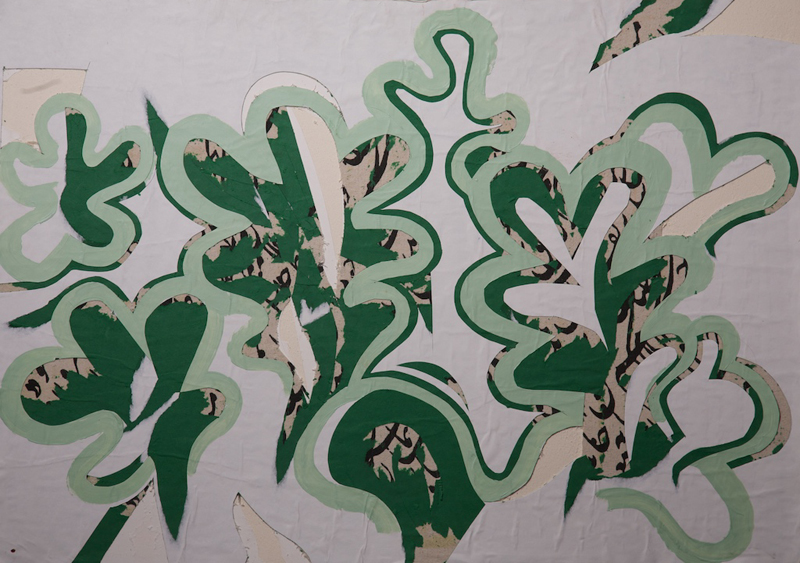 "Fig Dance", a 2009 acrylic-and-paper work.
That free-form, situational work ethic echoes his bohemian upbringing, with its heady mix of spirituality and adventure. The only son of American painter, writer, and filmmaker Wynn Chamberlain and his wife, Sally-a life-enhancing pair I met while living in Morocco and who remain fast friends-Chamberlain and his fraternal twin sister, Sara, spent a significant stretch of their childhood in India, where their parents settled at a comfortable distance from the cultural turmoil of 1970s America. (One of their homes was a rambling mansion in Bangalore once owned by the Duke of Wellington, and for a period they lived at the foot of Himalayas.) The siblings also spent formative years on the family's isolated ranch in California, which was a rugged, back-to-the-land, home-schooled experience, by all accounts with not an ounce of Wild West glamour the word "ranch" might suggest-the senior Chamberlains grew their own food and for three years the family lived in a tent.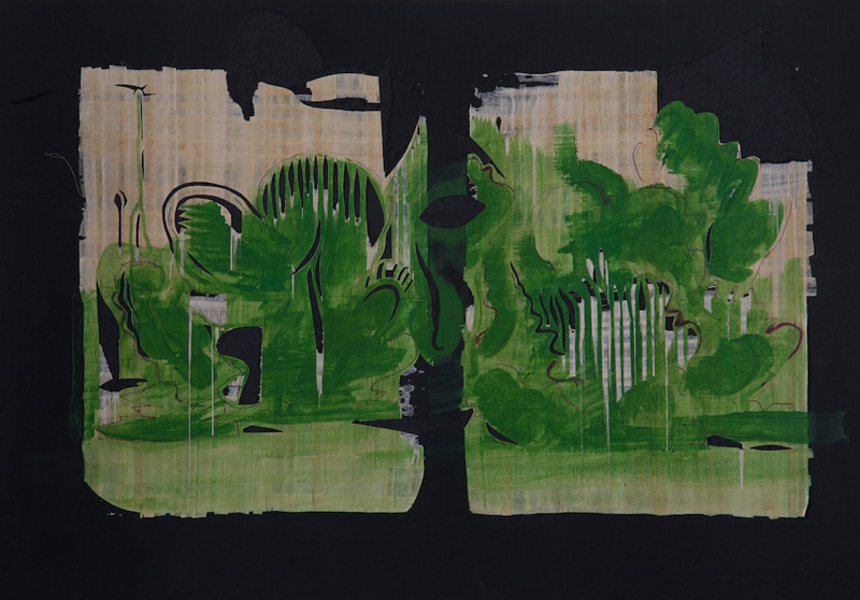 "Green Landscape", a 2009 acrylic-and-paper collage.
"Being surrounded by nature, in a foreign country as well as California, had a big impact on my work," Chamberlain says, adding he is also influenced by everything from ancient sculpture to modern art to the dense paintings of early-20th-century modern artists such as Germany's Kurt Schwitters, especially his jazzy Constructivist collages known as Merz Pictures. His father's artistic influence is more discreet, however, less about inspiration and more about insight. "He has given me some art concepts I've digested," Chamberlain explains. "One is having a background and a foreground and then playing with the space until you're not sure which is which. I like it when there's not a clear understanding of what you're looking at."
For more information about Sam Chamberlain and his work, visit his website